I noticed my headlight was flickering when the bike was in high revs and vibrating, but the bike started up every time I stopped it, so I wasn't too concerned. I headed up on the smaller roads again towards Edmunston. I had planned on going over the world longest covered bridge and it is quite long, at 1282 feet. Here's a picture overlooking it from a timmies a little ways away. Gotta love those wooden statues. :)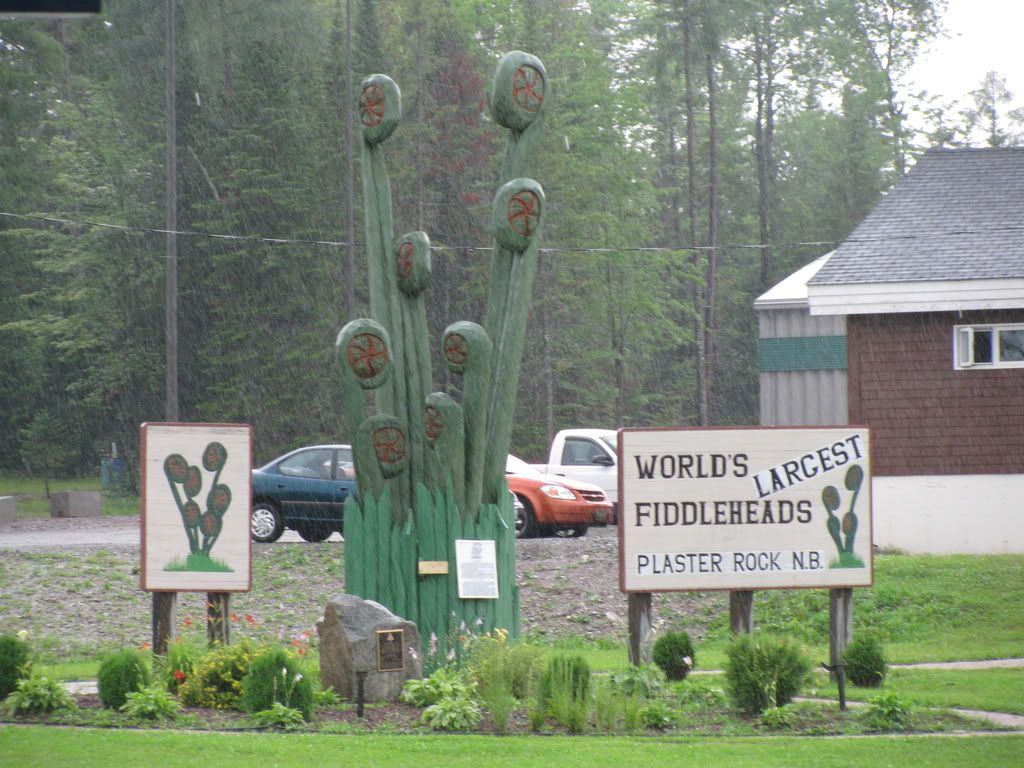 I decided to stay on the smaller roads and headed to plaster rock. It looked interesting on the map and had an interesting name. Heading into the town a sudden downpour came down so fast and hard I could hardly see so I pulled into a gas station and got myself a coffee (attendant didn't want me to pay!) nice folks in these parts :)
Having a smoke and coffee i looked up and what do i see? the World Largest Fiddleheads! I like roadside attractions like this one, and it was a pretty sweet find.
I left there and headed towards Grand Falls. Again I didn't know what was there but it was on the way to Edmunston and the name looked promising. Got to Grand Falls and stopped for a coffee. When you stop for coffee and you're on a motorcycle with out of province plates, people talk to you. I talked with a guy who used to have a Volusia and we talked about bikes for a bit and asked him what's there to see in this town. It appears I rode over the bridge where the grand falls are and I didn't even see them! I went back down and took in the sights. It was nice to watch the falls for a bit.

From Grand Falls, I followed the river on the border of Maine and New Brunswick. This was a nice ride as well and finally wound up in Edmunston. I was getting ansy on getting home due to not trusting the bike as much so i opted to take the trans-canada between NB and Quebec. This turned out to be a good thing, since the other road which i was leaning towards (highway 289) had a huge problem. Seems the night before at 9:30pm a car was travelling down it and the road gave way, the car and road both slid into the river. I may or may not have taken that exact road, but many roads in the area were a complete washout. If I hadn't crashed I would have to backtrack quite a bit.
http://www.cbc.ca/canada/new-brunswick/story/2008/08/03/road-collapse.html?ref=rss
On the trans-canadian I entered Quebec and instantly froze. I crested a large hill and on the other side the temperature must have been at least 5degrees C less and there was intense fog.
I stopped at a timmies along the highway and chatted with a biker couple that had just come from where I was going. They said after 30 mins of being inside they were still freezing from the cold and some of their gear was totally soaked.
Thankfully I had my full rain suit on, rain booties rain gloves, and put on a fleece sweater under my riding jacket and put the rain liner in the jacket for an added layer. I love my Aplinestar SR2 drystar gloves. They would soak up water like a sponge on the outside but kept me dry on the inside without losing feeling or grip. great gloves.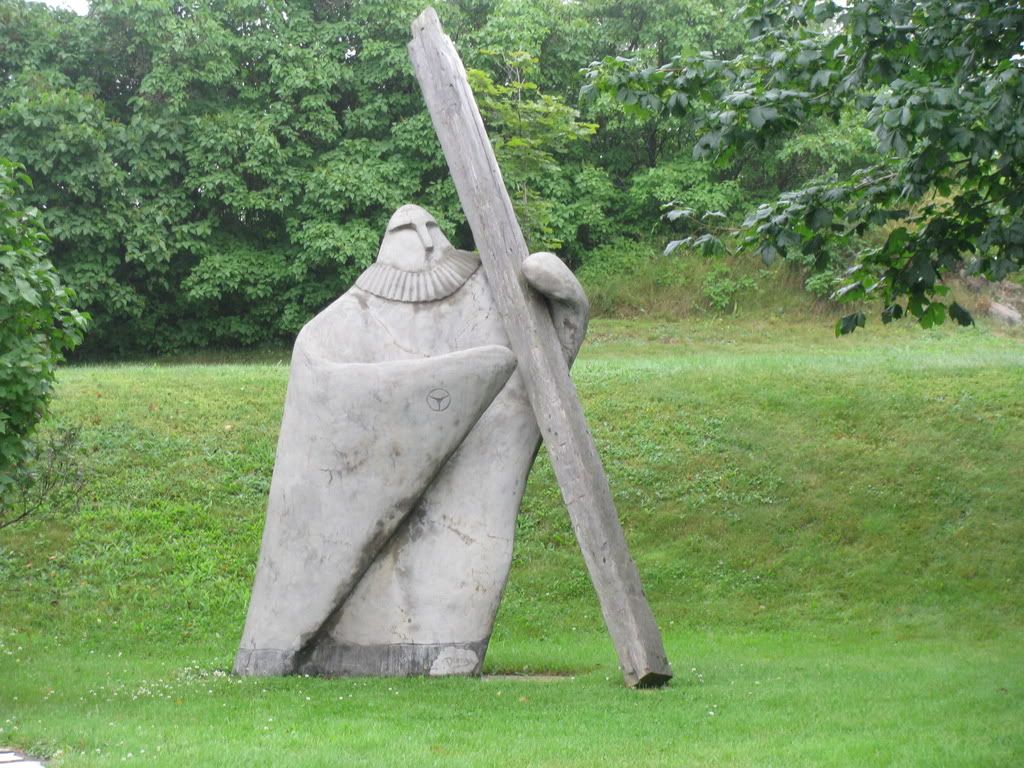 I kept popping on and off the trans-can trying to find better weather as it was really really foggy along the trans-can, as well as the smaller country roads. At around La Pocatiere, I stayed on the smaller country roads and decided to head inland. you see some of the oddest stuff in these small towns. I don't even know what this religious crap is supposed to be, but it's kinda creepy if you ask me.
It was really foggy so i decided to call it quits for the day and get a room somewhere. All the rivers, lakes and streams i passed were swollen. Even the St Lawrence (pic below) was pretty swollen and up to the grass. Good thing today was that i didn't get soaked, but everything was humid and some gear in my bags got pretty wet, even with the rain covers on them. I wound up in Montmagny.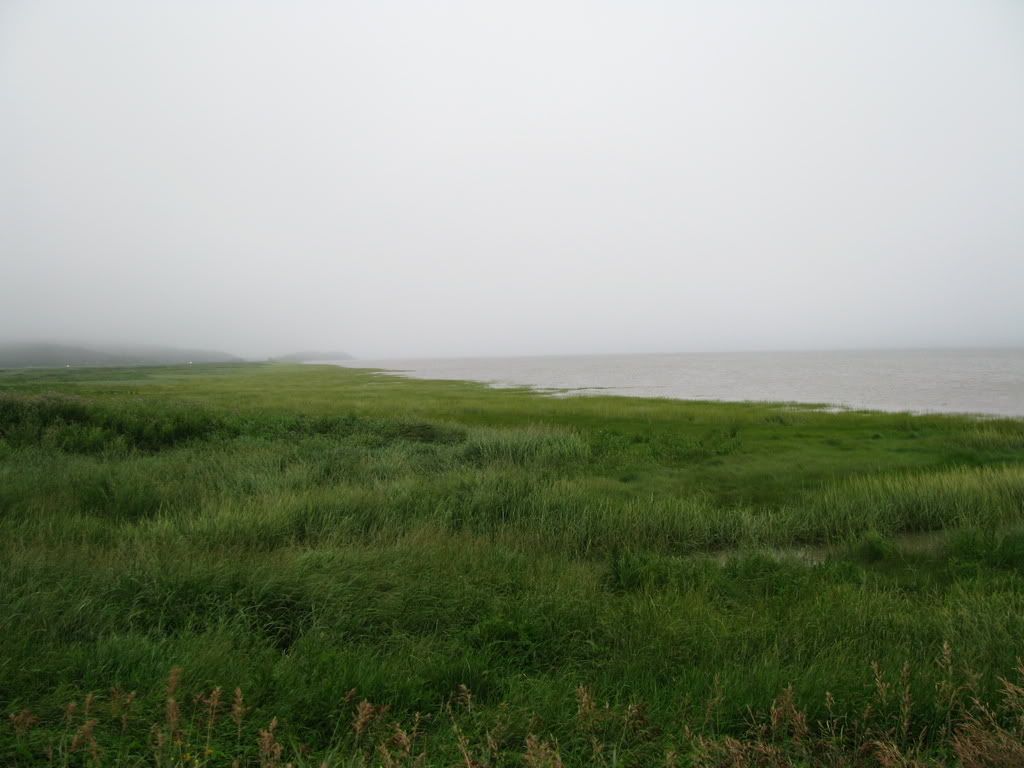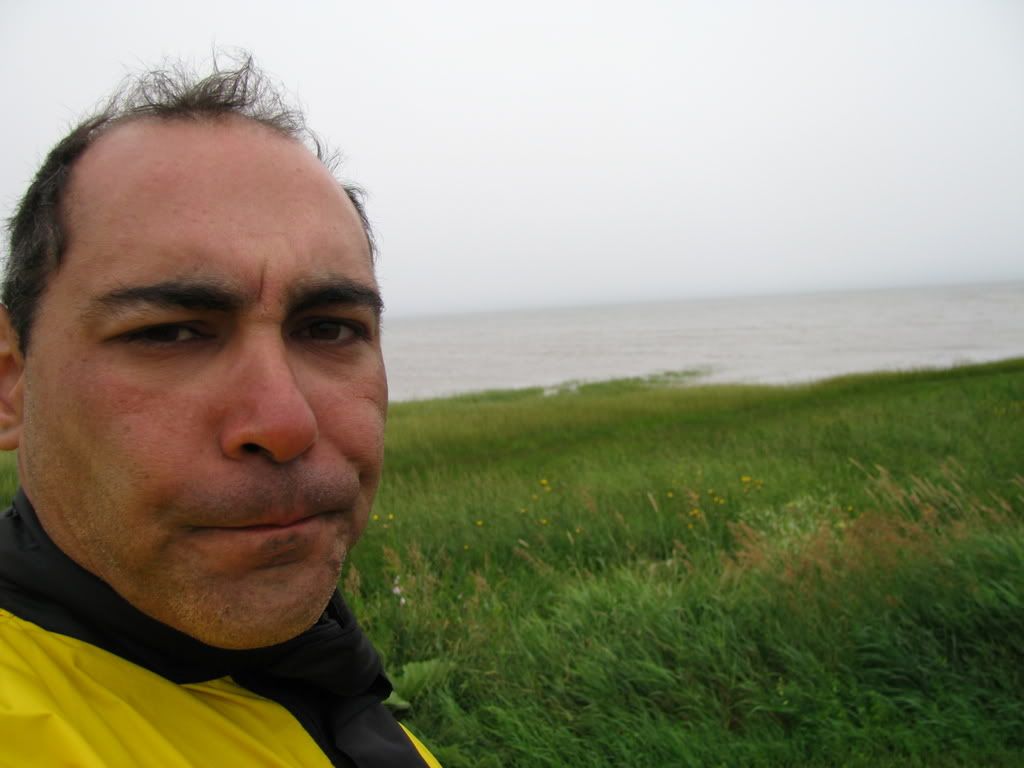 not impressed with the weather.