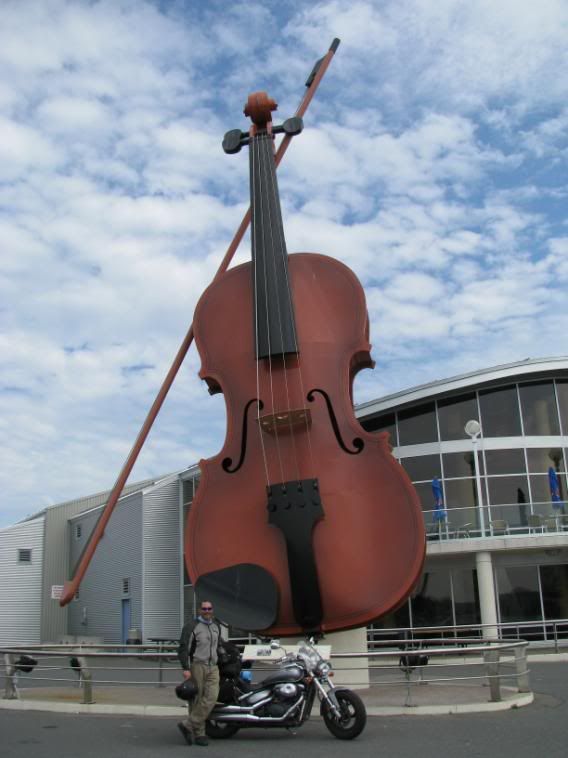 Saw a giant fiddle, so i needed to take a few pics of that! A nice couple walked by and asked if I wanted my picture taken with the bike. Of course I did, and she took a pretty good picture I think :)
I Left Sydney and went north up the coast and noticed a church looking building, with a tank beside it. I didn't notice the sign at first, but it was the Fort Petrie historic military museum. Talked to the guy there and we talked quite a bit about war, etc. the building was made to look like a church to fool the nazis. There was also an under submarine net to catch nazi subs if they came into the channel to the Sydney harbour. It was a great find on the side of the road and quite unfortunate that not much money has been put into places like this preserving our history. The museum ran only on donations, so I gave $5. Funny how I'll give money to small museums like this, but refuse to spend money on the 'real' museums.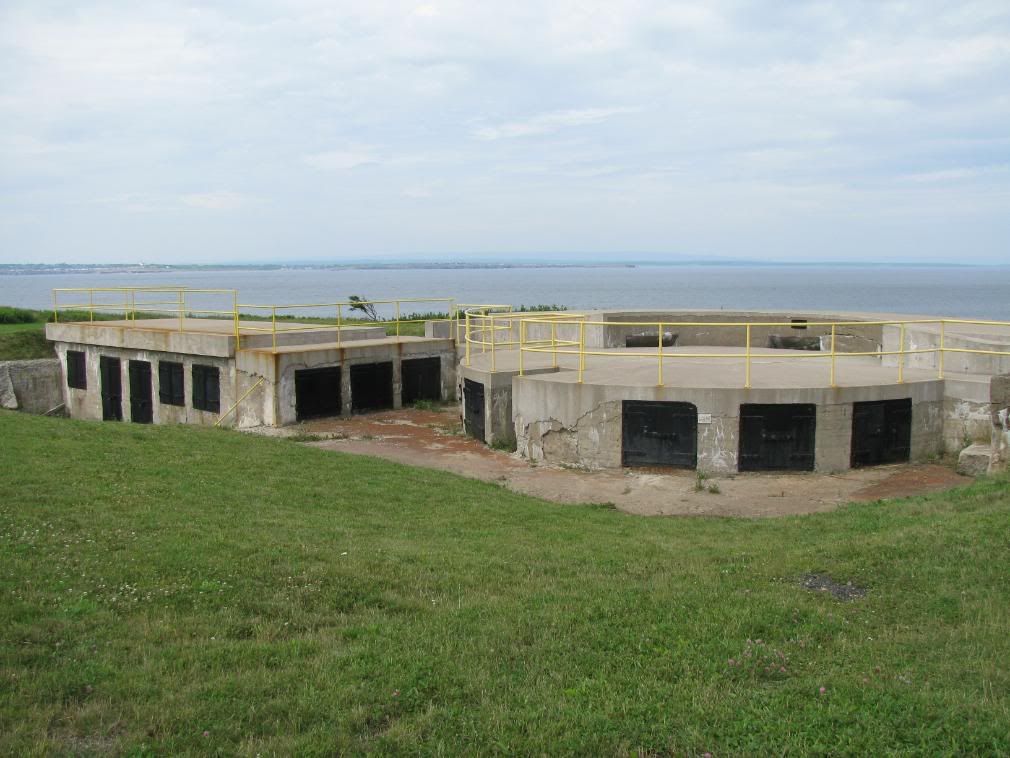 I got to walk around the Bunkers where the anti-aircraft guns would be, and I would hate to have been in there when we were at war.
If you are in the area, I suggest you check it out.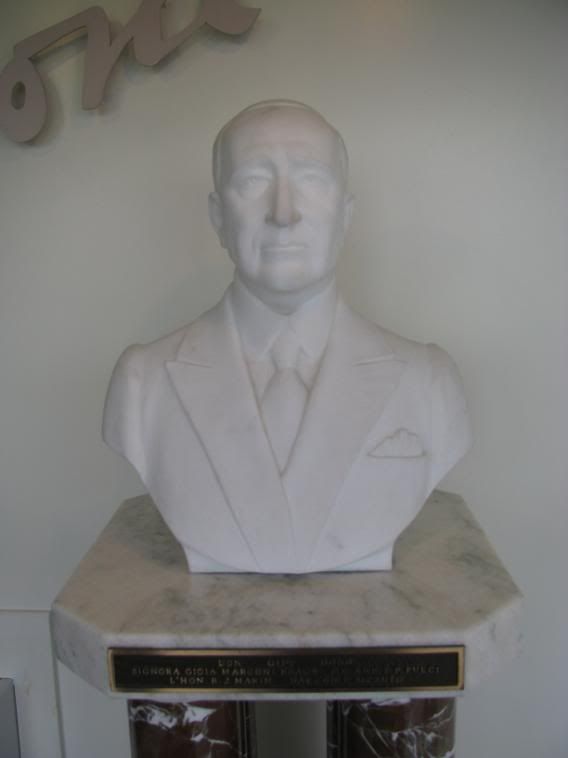 I followed the coastline to glace bay and got to the Marconi historic site. I would have thought that there would be more of the original 'workings' at the site of the 1st transatlantic complete wireless message. It was still interesting to go to, and most of all, it's free. Still neat to imagine in 1902 a complete wireless message was sent from Glace Bay to Ireland at a time when Canada was still forming.
I took the Marconi Trail, heading to Lousibourg, the fortified historic site. about 5 mins from Louisbourg a freak storm came down hard out of nowhere. I wasn't wearing any rain gear, and by the time I was able to pull over safely I was already soaked to the bone.
note to self: if they call for rain in the area, wear the rain suit, even if you look goofy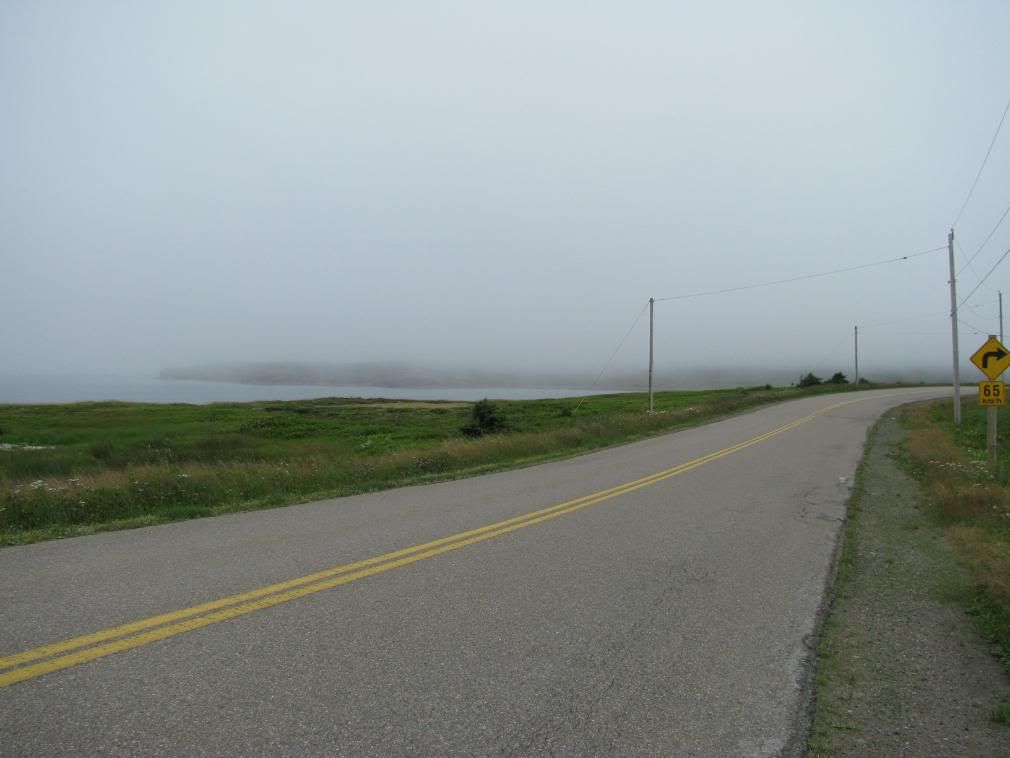 This picture was taken about 15 mins before the downpour. When riding in fog, wear rain gear!
I pulled into Louisbourg and covered my bike with a tarp I brought. I hadn't put the rain covers on the bike either. After the rain stopped about 10 mins later, i decided to change on the side of the road. Cold, wet and nekkid with a big blue tarp around me. heh. quite an experience.
Thankfully, since I had put most of all my clothing in Ziplock bags, I had dry clothes to wear. I felt a bit miserable at this point so I decided to just ride on. I didn't feel like visiting anything. It was pretty Much fog and trees all the way south, but it finally cleared up late in the day.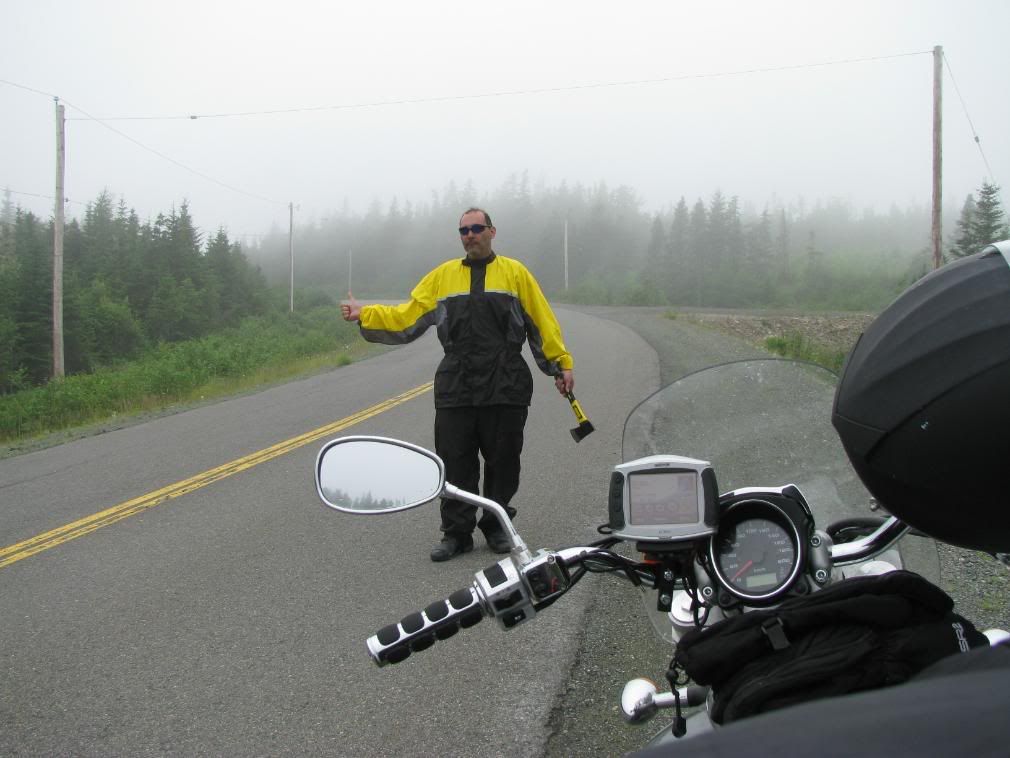 I had arrived at Port Hastings at the 'entrance' to Cape Breton and decided to get a room for the night and get a head start for the next day. I didn't really, what i did was go riding at night. Avoided some more critters along the way, and had a bat fly next to me for a few seconds and had a firefly buzz by. Even at night you can get interesting sights.